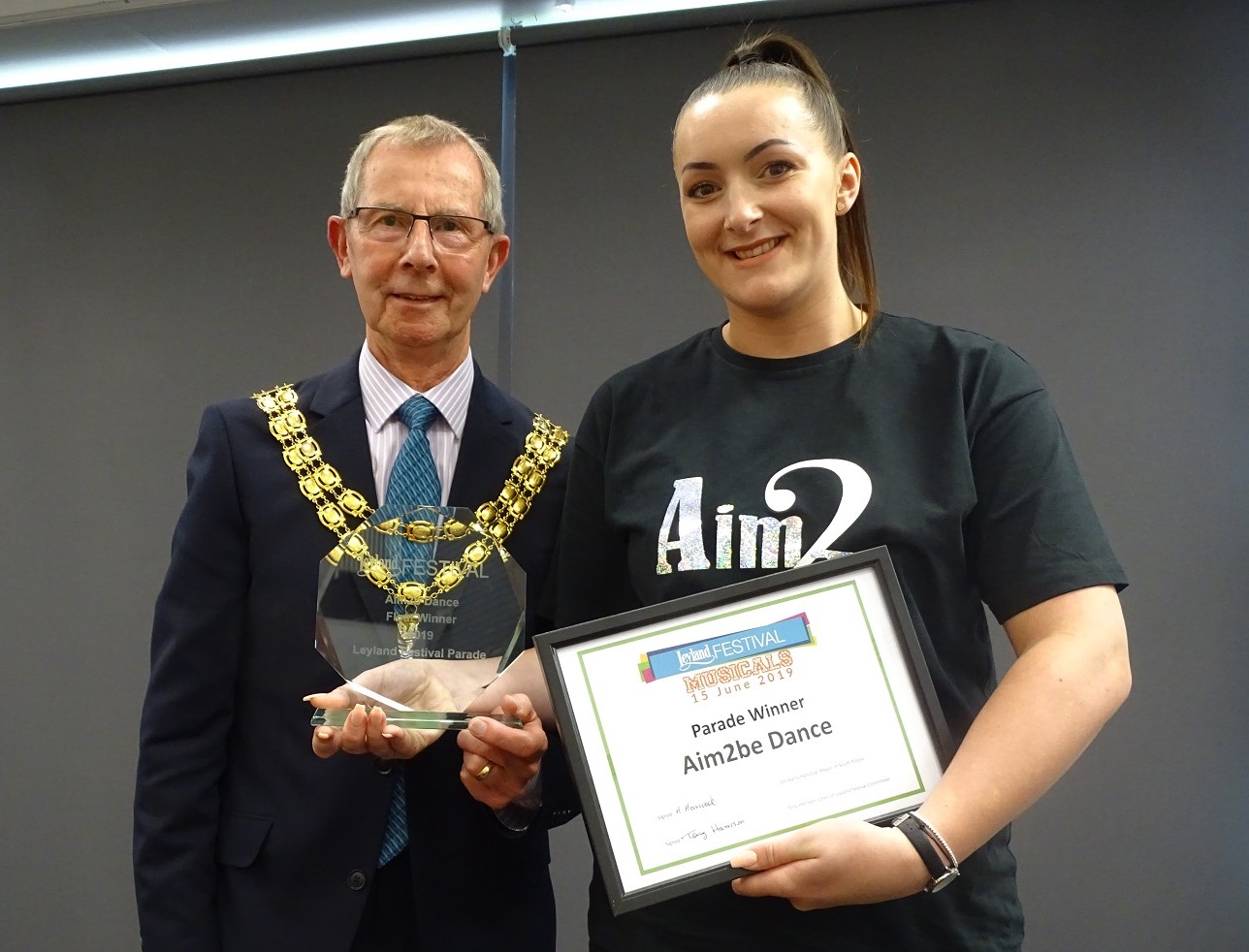 Community Spotlight:
 Special Announcement – Leyland Festival Parade Winners Announced!
Leyland's Aim2BDance School Collect their 'Best Float' Award and Help to Launch Leyland Festival 2020
On Wednesday evening, we had the absolute pleasure of welcoming the dancers and staff from Aim2B Dance School to the Civic Centre in Leyland to receive their award and certificates for 'Committee's Choice Best Float' for the 2019 Leyland Festival Parade. Their impressive Cats inspired float wowed the committee with its creativity and attention to detail.
The dance school members received their certificates and rosettes from our Chairman Tony Harrison and The Mayor of South Ribble Councillor Harry Hancock.
Leyland Festival 2020 Date Announced
During the presentation, the dancers were asked to share the date for Leyland Festival 2020 – it was confirmed that our popular family event will return on Saturday 20th June.
Festival Committee Chairman Tony Harrison was grateful for the dance troupe's help "They did a great job of helping us to announce next year's festival date, and we are delighted to confirm that Leyland Festival will be back once again in 2020. The Festival goes from strength to strength each year thanks to the continued support we get from local groups and businesses. Leyland festival is always a real community effort and 2020 will be no different.
"The Leyland Festival Committee will reconvene in September to start planning next year's event. We look forward to sharing more details with everyone after the summer break, including the theme for 2020; watch this space!"
Best Float Winners Captured 'Musicals' Theme Perfectly
Commenting about the Aim2B Dance School presentation, Tony added: "It was great to have so many of the dancers from Festival day with us to receive their award and certificates. They created a real show-stopping float that perfectly captured our 'Musicals' theme. It was a pleasure to award them with the Best Float Award.
"Thank you again to everyone who took part in the festival parade. The floats and walking groups are a real highlight of the day and we appreciate all the time and effort that goes into creating such a spectacular part of Leyland Festival."
More information about Leyland Festival 2020 will be shared in September, including details for how to get involved in different aspects of the Festival, and how to express an interest in having a stall.